Emerald, Silver, Chainmaille, bracelet, Toggle clasp, May birthstone,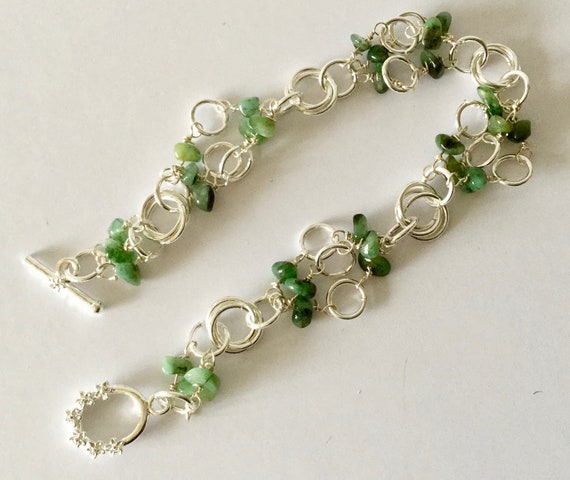 Shared by ZoeSanderson in the Jewellery
---
Product Description:
Emeralds, May's birthstone also Gemini's birthstone and associated with the Heart chakra. A member of the Beryl family Emeralds are usually included and cloudy. The chips used here cloudy but display the lush green colours the gemstone is known for. Each nugget has been threaded onto wire and given a rosary link at each end, in groups of 3 they have been threaded onto a jump ring and then each individual chip connected to the next set with a jump ring. There are 30 Emeralds in total in this piece, the link gemstones are connected to a mobius ring to form the chain. All the jump rings are silver plate as is the dainty toggle clasp that completes the bracelet. The overall appearance of this bracelet is very dainty and the open connections add to the pretty effect. A lovely gift for someone born in May and or a Gemini. The gemstones are genuine Emerald nuggets and each one is unique.
Site:
Who
Share the love around the world - for the love of handmade: